Euro Catering has launched two outstanding, self-ventilating electric pizza ovens, having partnered with Italian manufacturer, Morello Forni.
Euro Catering has turned the tables on perceptions of electric pizza ovens, by introducing the Evento FRV100 and FRV 125 convection ovens.  Both cook pizza on a revolving stone turntable, with adjustable speed and directional control.
The rotation of the pizzas cooking on the turntable allows for baking uniformity and shorter cooking times.  The FRV100 can tackle 90 pizzas (30cm) in one hour, whilst the FRV125 can cook 110, with its 1.25m diameter turntable offering more capacity than the 1m version.
The ovens are ideal for kitchens unable to use gas or accommodate ventilation systems for the burning of solid fuel.  Eateries that can fit a flued oven, but do not want the flue on view, can opt for a tapered dome design (Volcano), which conceals the venting mechanism.
Both ovens, from professional-grade pizza oven specialists founded in 1969, are low energy-consuming options, compared to traditional electric ovens. They are equipped with adjustable heat controls for the top and bottom of the oven, enabling temperatures of up to 450°C.
The ovens minimise heat loss through highly efficient thermal insulation and the use of refractory materials that keep an oven warm up to 12 hours from when last operated.
Up to three baking programmes can be pre-set, using an intelTouch System control interface – a simple-to-use, well-thought-out oven feature. A patented, automatic debris-cleaning system prevents waste forming around the revolving bedplate, making clean-down easier.
'Standard' FRV ovens can be finished in painted metal or stainless steel, whilst Cupola and Volcano ovens can become eye-catching ovens finished with coloured, microporous plaster and natural stone mosaic, or with customer-supported ceramic tiles.  Morello Forni's mosaic finishes utilise wide, natural stones, in different colours and colour-combination choices.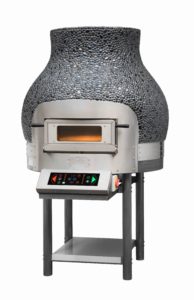 Euro Catering's sales director, Justin Towns, says: "We are excited to have these electric convection ovens within our portfolio.  They are an ideal pizza oven solution for those who cannot flue an oven, or access a gas supply.  They help chefs create and serve authentic-tasting pizza and support a business needing to serve pizza in volume and extremely swiftly."
Both the FRV100 and FRV125 are easy-to-install pizza ovens that can be assembled and up-and-running shortly after delivery.  They can be wheeled into position on a stand and only require an access door measuring a few centimetres more that the width of the dome.
For more information head to www.euro-catering.co.uk or call 01455 559969.